WORKING WITH YOU
I offer my service in two ways: Either in the form of Psychotherapy or Coaching. Depending on your needs and constraints, we will come up with a framework that works the best for you.
In our meetings, we will aim at a holistic change process on an intellectual, but also on a visceral and emotional level. You will be offered guidance on how to address the unique challenges of feeling and living intensely. I will also give you exercises that you can implement in-between sessions to consolidate the insights and learnings.
We may address the past, the pain of alienation and not fitting in, the childhood wounds, emotional triggers, and the body-mind disconnection. But this work is not just about healing, but also thriving. Thus, we will talk about your hopes and dreams, your inner strengths, and most importantly how to harness your creative potential so you can feel fully alive.
For more information, please refer to these pages:
HOW DO WE MEET?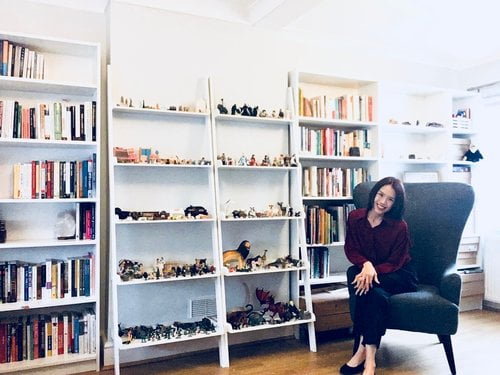 We will be meeting online.
I work with people from around the world, and will always work to accommodate our time differences.
For the meetings, we can use Skype, Zoom, or doxy— a secure platform that uses end-to-end encryption.
The Benefits Of Working Online
In the digital age that we live in, we have lost certain structures and stability, but at the same time, technology gives us new options. Many clients and coaches are now meeting online through applications such as Zoom or other secured virtual platforms.
Finding an authentic bond
Numerous studies have been done comparing various approaches to psychological healing, but so far, researchers have not found any modal to be superior to others. What most research CAN agree on, however, is this: It is the bond between the two parties that matters. The more connected you feel with the person you work with, the more effective the work would be.
When you enter a transformational process, you do not only bring your logical 'adult self' into space but also a younger, more raw version of yourself. Your 'inner child' yearns for a real emotional bond and delicate psychological holding.  This intuitive part of you notices all the nuances and subtleties and decides whether or not you can trust someone and open up. In this realm of authentic, unspoken connection, your coach cannot hide behind a facade of professionalism. Ultimately, it is their humanness and genuine acceptance, rather than their qualifications or pretty websites, that matters.
Because of the lack of general awareness, even amongst mental health professionals, of 'neuro-typical' traits such as high sensitivity and giftedness, any emotionally intense people have been wrongly pathologized all their lives. You might have been passed from one service to another, from one diagnosis to another. Being mislabelled and misdiagnosed is not only unhelpful, but can erode your self-esteem and sense of agency, which is the last thing you need when you are seeking understanding, healing, and ways to fulfill your potential.
Who speaks your language?
Human beings are tribal creatures. However, being exceptionally emotionally sensitive and intense may mean that you live on the margin of society. It can be challenging to find 'your people' if you live in a remote area, but even in big cities such as London and New York, you may still feel like an outsider looking in.
Your tribe exists, even it is harder to find it, and "your people" may be dotted around the world, cutting through time and space. You may have to look beyond your immediate surrounding.
With the internet, we can now find refuge in a virtual communal space through online research, art, music, and writing. After years of searching for answers, you might have found solace in reading other people's stories as an introvert, an empath, or their struggles with chronic physical and emotional pain. Knowing that there are others like you – even when they are a thousand miles away – is a real blessing.
Just like how you can now find your tribe across the world, online working allows you to access a worldwide community of helping professionals. You are now free to look for someone whose work suits your needs as a unique person, or whose words you have a deep resonance with. Rather than being limited geographically, you now have the option to have a transformative relationship with whom you can genuinely relate to.
Opening up
Since it is relatively new, doubtful professionals often render online work as second best to in-person meeting. Research, however, has found that online sessions can be as effective as face-to-face ones. In fact, there are times when online work can bring out a level of depth and progress that an in-person session cannot.
Sometimes, after an hour of traveling to a clinic, settling to the new environment, and checking in, you are no longer able to connect with the emotional materials that most need to surface. You may feel frustratingly numb and empty, and unable to connect. This is understandable, and your temporary dissociation may have been there as a protective mechanism.
Many people have found meeting from home allows them to feel safer. Opening your life story up to someone new is never easy, especially if your early experience had not allowed you to develop a sense of safety and security in the world. Being in the comfort of your own home can enable you to feel more at ease and in control, so you can open up at your readiness.
Connecting in real-time
By meeting in your natural environment, you are inviting me directly into your world, in real-time. This can be useful if you struggle with bouts of intense emotional storms. Online work gives us more opportunities to 'strike while the iron is hot' in the space where your day-to-day struggles occur. Meeting this way can also help me to get a more realistic and vivid sense of your difficulties.
A different kind of intimacy
Although we cannot see each others' full bodies, we also get to cut out unnecessary distractions. I can focus on other subtle details such as your tone of voice and changes in your facial expressions, which can be incredibly useful. In fact, the up-close focus of a video call can sometimes feel more intimate than an actual face-to-face session.
Seeing you in your private space allows me to enter into your world more directly, and having someone with you in the here-and-now of your internal and life battles may alleviate the loneliness many sensitive and intense individuals have carried all their lives.
Ultimately, transformative emotional experience is created not by me reading your body language, but by us having an in-depth understanding of your emotional experience.
Buying back invaluable time and flexibility
We live in a modern time that is confronted with a sense of nameless anxiety, restlessness, a sense of urgency, and overwhelming responsibilities from inside and out. There is so much that you want to do, so much that you can do, so much that you are placed to do. In fact, most intense and gifted people are resource-rich but time-poor. The time traveling to and from therapy could add unnecessary extra stress (Although in other circumstances, they could also be used as a useful time for reflections. No time is truly 'wasted'!) Online work gives you the benefit of flexibility – so you can use your time and money in ways that you want to, rather than being limited by the public transport system or traffic!
In a nutshell, online coaching or consultation is no longer the second-best solution. With its own merits, it is something that is different from, but not inferior to face-to-face work.
HOW OFTEN DO WE MEET?
I do not have a fixed rule about the frequency of our meetings.
The old gold standard of having a weekly (or more frequent) sessions is arbitrary and does not reflect authentic and unique individual needs. Yes, sometimes having some regularity can help us settle into an emotional rhythm. However, in our fast-moving modern world where you might already feel stretched in multiple directions with financial, life, and work demands, a weekly set-time schedule may seem undoable.
Indeed, entering this work is not a light undertaking- financially, emotionally, and pragmatically. At the same time, nothing is more important than investing in yourself and building a solid foundation for your relationship and creative endeavors in life.
The work happens not just within the hour; in fact, the real work begins in your real life. If we were to meet less frequently, I might offer certain 'reflection prompts,' specific homework or exercises, so that the work continues in-between sessions.
HOW MUCH DOES IT COST?
It will be GBP 165 per session for both psychotherapy and coaching.
After booking the first session, you will receive an email confirmation with all the logistical details.
Using a credit or debit card, you can book your session with a secure online process.
With less than 24-hour notice, my cancellation policy is to collect the agreed amount of payment. The same rule applies to me, where if for any reason I were to miss a session, your next session will be free-of-charge.
If you are based in the UK and have private health insurance, you may be able to fund a course of sessions. I am on the approved registrar of Aviva, Vitality Health, and Aetna Global Benefits.
HOW LONG WOULD IT TAKE?
The duration very much depends on what you are after. Some people just want one or a few consultations for specific issues, others sign up for a course of 8-10 sessions, or longer-term, open-ended work.
I understand your desire to get better fast. You may have read online or in books that there is no 'quick fix' for the particular issue you face. This may be true, but it is entirely possible to attain deep insights or experience rapid shifts in a short period of time. These shifts can then be consolidated via other means, such as less-frequent follow-up sessions, books, email support from me, or being around the right people in your life.  Our goal is to effectively equip you with the needed insights and capacity, so you can be free to live a full life as soon as possible.
I encourage you to trust your instinct and the ability to discern. If you decide half-way through that it doesn't work for you, you have the full right to withdraw and I will respect your decision.
I look forward to hearing from you!